<![if !vml]>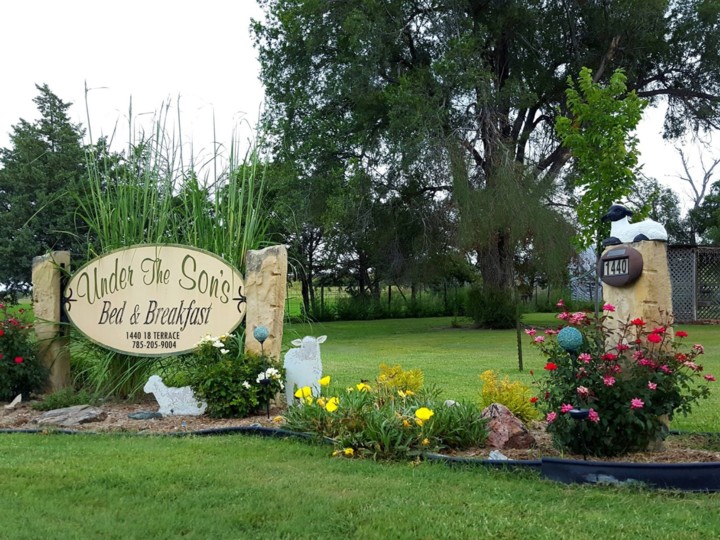 <![endif]>
A non-smoking, non-drinking facility
(Smoking and drinking permitted in designated, outside areas and structures)
Stockton, Kansas
(785) 205-9004
Under the Son's Bed and Breakfast is nestled in a valley surrounded by gently rolling farmland, a vast display of trees, and an array of 4-legged critters (sheep, a goat, cows, cats and, of course, the family dog).
Just 4 miles south of Stockton, Kansas, on Highway 183 and one mile east, Under the Son's Bed and Breakfast is located in the north-central part of Kansas in a wooded setting with beautiful flower gardens and landscaping.
The rustic family room features a wood-burning stove and a western theme, giving the room a warm, cozy atmosphere.
The music room features an antique pump organ, piano, game table and other antiques.
The beautifully decorated master bedroom features a queen-sized bed. The second bedroom also features a queen-sized bed, while a third bedroom has a standard-sized bed..
After a restful night's sleep, wake up to the smell of coffee and the many sounds of nature, followed by a farmhand's breakfast of pancakes, eggs, bacon/sausage and juice. Relax with a second cup of coffee on one of two patios or the covered arbor surrounded by beautiful flowerbeds. From this vantage point, you might witness squirrels playing and scampering among the trees. Or, you can sit and enjoy the beauty of the surrounding hills and the quiet that only comes with country living.
Other points of interest to see or do:
<![if !supportLists]>Ø <![endif]>Walking trails
<![if !supportLists]>Ø <![endif]>Ancient Indian village site
<![if !supportLists]>Ø <![endif]>Fishing at nearby Webster State Lake (just 10 miles west of Stockton) and Rooks County Lake
<![if !supportLists]>Ø <![endif]>Gift and antique shops to explore in Stockton
<![if !supportLists]>Ø <![endif]>Rooks County Free Fair (started in 1879) the second week in August each year
<![if !supportLists]>Ø <![endif]>State's largest rodeo in Phillipsburg (21 miles north)
<![if !supportLists]>Ø <![endif]>Rooks County Museum
For more information,
call (785) 205-9004
or
e-mail undertheson@ruraltel.net